Pawtucket Arts Festival Kicks Off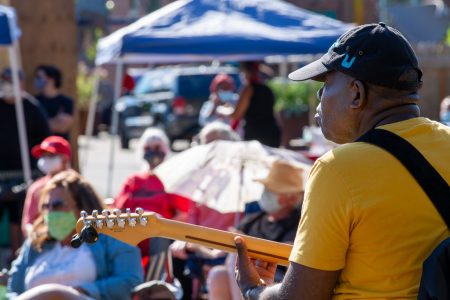 For the past 23 years, Pawtucket has celebrated the arts in the city. This year the arts festival goes "Plein Air." 
French for "outdoors" perfectly describes the approach and theme that organizers took when planning this year's festival. "With the uncertainty of Covid-19 and given the picturesque backdrop of the Blackstone Valley, we had some great reasons to continue keeping our events outside in the open air of warm September afternoons," said Festival Director Anthony Ambrosino.
A number of tried and true events and some new exciting ones added to the mix will feature music, poetry, dance, and of course, art throughout downtown Pawtucket and at Slater Park over the next two weeks. 
Here are some of the highlights for this coming weekend:
Starting Friday, September 10th and running through Sunday, September 19th, there will be smaller festivals under the Pawtucket Arts Festival umbrella that will bring neighborhoods and communities together and invite visitors to join along. 
Following along with the festival theme is the new Plein Air Pawtucket, which takes place opening weekend. Friday, September 10 – Sunday, September 12, take a walking tour and observe twelve artists capturing the spirit and essence of Historic Pawtucket through the technique of Plein Air painting! Check out a map of locations, parking accommodations, bathrooms and picnic opportunities.
The following weekend (September 18-19), there will be an En Plein Air Open Reception at the Pitcher-Goff House to view the paintings created during the Plein Air event. 
Opening Night of the Pawtucket Arts Festival will take place Friday, September 10 @ 
5 pm – 9 pm at the newly created event the Lorraine Mills Fest.  This festival will feature food, craft cocktails, finest brews and arts and crafts provided by studios and residents of the mill including White Dog Distilling, JA Patty, Mixed Magic Theatre, Pawtucket Arts Collaborative and Crooked Current. The festival continues on Saturday, September 11 @ 1 – 5 pm. Meet the community and have some fun!
In addition to the Lorraine Mills Fest, opening weekend will also include the always fun River Bend East Songwriters Festival on Saturday, September 11th from 12 – 5 pm The event, now in its 3rd year, will take place on the grounds of Slater Mill in conjunction with the National Park Service and is a celebration of original and traditional songs.
On the following weekend The Pawtucket Arts Festival will culminate on September 18th & 19th with the Slater Park Fall Festival. With artisan and craft vendors lining the park and plenty of entertainment for kids, this ever-popular event also features the return of Pops in the Park with the Rhode Island Philharmonic Orchestra and fireworks!
CLICK HERE TO SEE THE COMPLETE LIST OF PAWTUCKET ARTS FESTIVAL EVENTS