EOPA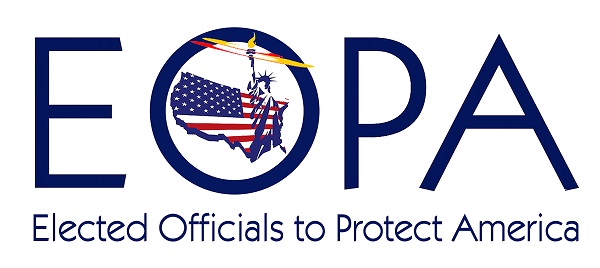 TCI annual transportation funds needed to combat Code Red climate crisis, say over 120 EOPA elected officials from RI, CT, and MA  
As nation builds back better and mitigates climate crisis TCI funding will help ensure communities of color aren't left behind
HOST: Christopher Douglass, Program Director  Elected Official to Protect America
SPEAKERS: 
Meghan Kallman, Rhode Island State Senator
William Haskell, Connecticut State Senator
Roland Lemar, Connecticut State Representative
Dominique Johnson, NorwalkConnecticut Councilmember 
Emily Norton,Newton Massachusetts Councilmember 
WHEN: October 13, 2021, at 10 a.m. Eastern Standard Time
WHERE: EOPA Zoom Live
 https://protectingamerica-net.zoom.us/j/84371630751
BACKGROUND: We face multiple interconnected existential crises that threaten our shared humanity, our national security and our planet because of human caused climate change. The United Nations Intergovernmental Panel on Climate Change (IPCC) report spurred UN Secretary General Antonio Guterres to say, "this is a Code Red for humanity." 
The science is clear: we must cut the carbon pollution from burning fossil fuels in half by 2030 Dirty fossil fuel power plants account for a third of our carbon footprint. This is likely our last moment to mitigate the worst consequences of the climate crisis, but time is running out. However, the transportation sector remains our highest source of emissions, producing 43 percent of greenhouse gas pollution in Massachusetts, 38 percent in Connecticut, and 36 percent in Rhode Island. TCI addresses this issue head on by curbing gas emissions.
Elected officials from these states enthusiastically agree that a critical way to help meet the challenges of the climate crisis is with the Transportation and Climate Initiative (TCI), a regional cap and invest program that will bring up to $3 billion in revenue to build clean infrastructure projects, which will improve the region's quality of life.
"We must take urgent action to mitigate the climate crisis by investing in a clean, affordable, and efficient transportation sector that will reduce our pollution, increase economic opportunity, and create needed good paying jobs. TCI is key for the region to achieve these goals," said Dominic Frongillo, Executive Director/Co-Founder of Elected Officials to Protect America. "With over 120 signatures the Elected Officials to Protect America's regional letter for Rhode Island, Connecticut and Massachusetts encourages their respective governors to implement TCI."
Elected officials from these states enthusiastically agree that a key way to help meet the challenges of the climate crisis is with TCI, a regional cap and invest program that will bring up to $3 billion in revenue to build clean infrastructure projects, which will improve the region's quality of life.
Investments made possible by TCI will better prepare the Northeast for worsening climate crisis impacts by making states more resilient with better infrastructure. Every state has experienced extreme weather due to human induced climate change. Communities within the potential final participants in the regional TCI consortium are at risk from flooding worsening. A 2017 report by the Union of Concerned Scientists said 170 coastal communities will face chronic flooding at least 26 times a year in the next two decades, twice as many at-risk locations as today.
"There is more risk that comes every year with extreme flooding and hurricanes becoming more common every year. We have to mitigate the crisis, cut emissions and adapt, all at once. The Transportation Climate Initiative is a huge step in that direction," said Meghan Kallman, PhD, Rhode Island State Senator. "The program will improve transportation, with electric vehicles and charging stations, energize our clean energy economy and reduce carbon emissions. Programs like this will make our communities safer and healthier for everyone."
Projects in clean transit near affordable housing, safer routes to schools, and climate-resilient infrastructure, amongst others, could receive yearly proceeds from TCI. 
TCI enables states to choose where proceeds are allocated, thereby giving us the ability to tailor programs to specific needed 
clean transportation projects.
"TCI is a game changer for cities and towns when it comes to meeting climate goals," said Emily Norton, Newton Massachusetts City Councilor. "From EV charging to public transit to cycling and pedestrian infrastructure, TCI will enable us to make bold investments in clean mobility choices for our residents and businesses. Cleaner air and water, healthier people, and tackling climate change, truly a win-win-win."  
RI, CT and MA, along with others thinking of officially joining TCI by having their legislatures approve it in law, have mandated at least 80 percent to 100 percent carbon emission reductions by 2050. This has made the Northeast emerge as a national leader in transitioning away from harmful fossil fuels to a fully clean energy economy. 
However, communities of color, and low-income communities suffer from higher rates of exposure to health-harming pollution from transportation and other sources, due to decades of systemic racism that has influenced where highways, ports, airports, bus and truck depots, and other polluting infrastructure is located. These are the mostly the same neighborhoods that are most susceptible to deadly heat waves, flooding and other extreme weather events. 
"Pollution from I-95 disproportionately affects our urban core communities here in Norwalk and is just one important aspect of the TCI for our city. It's time we brought environmental justice to our communities that have suffered from decades of neglect and racism. We all have a fundamental right to breathe clean air," said Dominique Johnson, Norwalk Connecticut Councilmember. 
TCI states must sign a Memorandum of Understanding (MOU) to become official members and then have their respective legislatures ratify it in law. On December 21, 2020, the governors of Connecticut, Massachusetts, and Rhode Island, along with the mayor of the District of Columbia signed a Memorandum of Understanding (MOU) agreed to work to implement the provisions of the TCI-Program (TCI-P) Signatory Jurisdictions in their respective jurisdictions. The TCI-P invests no less than 35 percent of their annual program proceeds to assist communities overburdened by transportation pollution and underserved by the current transportation system. The Connecticut legislature's Environment Committee has endorsed a 50 percent investment to overburdened communities. 
"It's unconscionable that a 2019 Union of Concerned Scientists study found on average, communities of color in the Northeast and Mid-Atlantic breathe 66 percent more air pollution from vehicles than white residents," said Roland Lemar, Connecticut State Representative. "In Connecticut our legislature has ensured that no less than 50 percent of annual proceeds from TCI will go to help communities that have suffered the most from greenhouse gas emissions and need a clean transportation system that serves them. We encourage other states to agree to this life saving measure."
A Harvard study found that people who live in communities near industrial sites that emit air toxins, and highways, continue to be more than twice as likely to die from COVID-19. These are primarily communities of color, and low income.
Rhode Island State Senator Alana DiMario and Representative Terri Cortvriend are sponsors of the bill in their legislature. In a joint statement they said:
"As sponsors of the TEAM Community Act, we are pleased that there is broad support for TCI-P across state government. We made great progress in this past legislative session with the Senate passing the bill in June. Governor McKee supports efforts under TCI to address climate change and improve public health, and is actively engaged in conversations with Governors Lamont and Baker on this initiative.
The Department of Environmental Management continues to engage legislators, environmental and equity advocates, and other stakeholders to discuss the benefits of TCI and why putting the brakes on air pollution and accelerating innovation in cleaner transit and healthier communities is so important to Rhode Island.
We are very hopeful that both the House and Senate will hear the bills early in the 2022 session and bring the bills to the floor for passage so that it can be presented to the governor for signature."
According to another Harvard study, if all participating jurisdictions implement the program, the region can reduce transportation emissions by 25 percent, prevent more than 1,360 pollution-related deaths, and generate up to $13.5 billion in savings from avoided health costs by 2032.
EOPA will keep their letter open so that additional elected officials from MA, CT and RI who wish to call for immediate action to mitigate the climate crisis can easily add their support for TCI.
Over 200 elected officials from New York and New Jersey have already signed respective EOPA letters to urge their governors to sign MOU for official participation in TCI.
About Elected Officials to Protect America: Elected Officials to Protect America is a network of current and former elected officials who care deeply about protecting our planet and people. EOPA is committed to solving the climate crisis, ensuring environmental justice, and protecting our lands and waters. We educate through value-based storytelling, training lawmakers, and connecting elected officials to inspire strong environmental leadership.
Elected Officials to Protect America
20 Main Street
Rockland, ME 04841
United States