It's that spooky time of year again!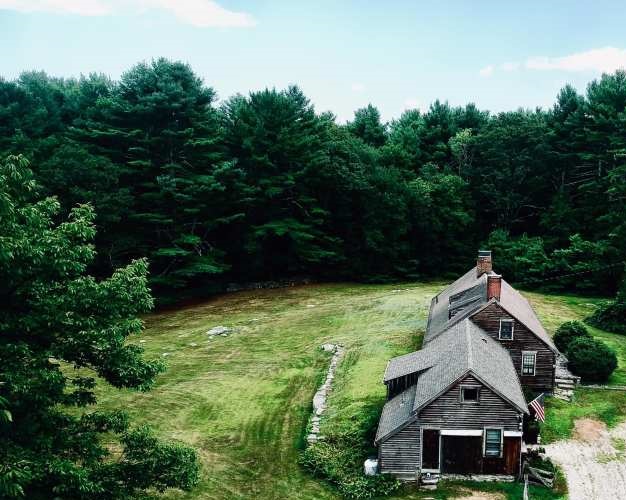 Courtesy of the Heizen Family from the Website, "The Farm At Round Top Road"
There are many Halloween events planned around the Blackstone Valley (see below).  We may not have the corner on witches (except for maybe the Sanderson Sisters with the current filming of Disney's Hocus Pocus II), but the Blackstone Valley has its share of many eerie legends and haunted places that have inspired paranormal investigation.
Conjuring House
First and foremost on many people's list is the Conjuring House in Harrisville, RI. This authentic colonel home – circa 1736 – that is rich in history and mystery will certainly delight any paranormal investigator. The house and the real-life hauntings of the Perron family who lived there in the 1970s was the inspiration for the infamous horror film, The Conjuring, which was originally released in 2013 and has become a famous movie franchise.
However, the movies are just that… movies. The current owners, Cory & Jennifer Heizen, have welcomed people to investigate for themselves by booking weekday or weekend investigations. Several investigations have been posted online.
Over the summer, we attended a premiere of Sleepless Unrest, a movie created by a small group of filmmakers and paranormal investigators while spending two weeks at the house. The film premiered at the Assembly Theatre in Harrisville and offered an opportunity for us to question the investigators and the current owners afterwards. Watch Film Trailer 
We asked about the spirits and how they have reacted to these investigations. The answer is that they seem to thrive with visitors and not all the spirits are malevolent, most of them just like to play.
If you are interested in learning more, there will be a 3-day Halloween Livestream event on October 29th, 30th and 31st featuring members of the Perron family.  MORE INFO.
Recently, the Heinzens have opened up the house for day tours along with the investigations. However, because of the popularity of the "Conjuring" film franchise, all dates for 2022 have sold out! You may need to wait until 2023 to book your own paranormal experience. Check their Facebook page for updates.
Tavern on Main
Another haunted place nearby in Chepachet is the restaurant Tavern on Main. Paranormal investigator and author Thomas D'Agostino calls it Rhode Island's most haunted restaurant. D'Agostino will be returning to the Tavern for two nights Monday, October 25 and Tuesday, October 26 @ 6:30 pm for "Dining with the Dead Presents: Tavern Ghost Hunt Dinners."  Enjoy a seasonal dinner put on by the staff at Tavern on Main while participating in an interactive paranormal investigation in search of the ghosts that haunt the tavern.Thomas D'Agostino has several books available on the paranormal and other spooky legends in and around New England including "The Ghosts of The Blackstone Valley," which will take you to the most haunted places in our region.
Old Slater Mill
Old Slater Mill, now the anchor site of the Blackstone River Valley National Historical Park, has also been the subject of paranormal investigations including one done for the television series Ghost Hunters.
Ghost Hunters, featured The Atlantic Paranormal Society (TAPS) and included members of the Old Slater Mill staff, Carl & Keith Johnson.  Carl and Keith also led paranormal tours for several years at Slater Mill that were very popular with visitors to the Valley.
Carl returns to Old Slater Mill Association with other paranormal investigators, Elise Carlson, Arlene Nicholson, and the aforementioned Thomas D'Agostino October 23 @ 8 pm for a Virtual Re-investigation on Zoom. 
Sign up and revisit past investigations of Old Slater Mill and listen as they discuss their findings, evidence, and take questions.
You may also want to visit Slater Mill and take a tour with a National Park Service Ranger Wednesdays – Saturdays from 10 am – 4 pm. Tours are at 11 am and 2 pm to learn more about the importance of this mill… and maybe you'll experience some paranormal activity for yourself.
Hearthside House
In addition to hosting its popular "Gone but Not Forgotten" Mourning Exhibit and Tour in October, Hearthside House will welcome Brian Cano, renowned paranormal investigator and television host with his History of the Paranormal Traveling Exhibit on November 12th & 13th.
Brian J. Cano is currently the featured analyst for Travel Channel's Paranormal Caught On Camera (now in Season 4), a former guest on History Channel's The Curse Of Oak Island and The UnXplained and well-known as Tech Specialist for SyFy's Haunted Collector team.
His exhibit looks back to the beginnings of the fascination with the afterlife in the 1860s to present day state-of-the-art equipment.
As part of the weekend exhiibit, a nighttime investigation will take place Friday and Saturday at 7 pm. Friday's event will include two two-hour investigations and is more of an introduction, while Saturday evening's investigation will be four hours and for those who really want to roll up their sleeves and experience the place.
Saturday will include local paranormal investigators Carl Johnson (Ghost Hunters) and Elise Giammarco Carlson (Panorama Paranormal).
Hearthside House itself may be "haunted," as Friends of Hearthside have held similar events over the years. Here's your chance to find out! MORE INFO
If you are not so much into ghost hunting, but want to partake of the seasonal happenings, below are a few more opportunities to check out from the frightening to just plain ol' Halloween fun.
Through October 31st– Thirteenth World at Diamond Hill Park, Cumberland.  An outdoor "haunted house" that's not for the faint-hearted or children under 12.
Fridays and Saturdays @ 6 – 9 pm through October 30th –Pumpkins at Slater Park, Pawtucket.
This is a family-friendly event with a wonderful array of carved pumpkins. The carousel is also open until 8 PM.
Fridays, Saturdays and Sundays through October 31– Seven Cedars Farm Haunted Hayride, Smithfield
Fridays & Saturdays through October 30th– Fright Train, Harmony Products Railway, Glocester. A half-hour haunted ride through the woods.