Building Grassroots Power for Better Transportation in Rhode Island: Understanding the Needs of Transit Riders One Survey and Conversation at a Time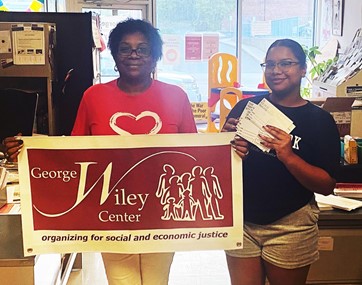 Every Wednesday in Pawtucket, Rhode Island, members of the community come together at the George Wiley Center to discuss the issues that they face in their neighborhoods. Some of these individuals are experiencing homelessness or food insecurity, while others are facing utility shut-offs, expensive bus fares, or trouble with their landlord. Regardless of their personal situation, organizer Alesia Ross is there to greet them because she understands what most of these community members are going through.
Ross, a single mom, navigated homelessness and the challenge of paying for energy bills herself, and now uses that firsthand knowledge to help others. "You can relate to people," she said, "and sometimes you can share your experience with them and let them know they're not the only one going through it. That's what changed me working here."
The George Wiley Center helps low-income communities address their struggles, and connect the dots between their needs and policy solutions. As another organizer at the Center, Leslie Henriquez, describes it, "A lot of times when you go ask for help, they give you bandaid solutions: okay here fill this out and go here. We do that too but we also explain how this isn't creating the change. It's just creating a cycle. Here, we try to dig deeper. What is causing this? How can we fix this? [How can we actually create] systemic change?"
This deep focus on relationship-building and education rests at the heart of the George Wiley Center, a 40 year old grassroots direct action group advocating for welfare rights, racial justice, and energy justice. They prioritize growing and centering the leadership of Black, Indigenous, and People of Color staff and board members. For years, the Center has been working to pass a bill that would enact a Percentage Payment Income Plan (PPIP) to help low-income Rhode Islanders who cannot afford their utility bills. Despite the Center's roots in the utility justice movement, organizers there understand that the multiple issues their communities face are intersectional. An aspiring elementary school teacher, Leslie Henriquez emphasizes the connection between access to transportation and access to opportunity: "I want to give my [future] students an equitable education, so they need an equitable way to get to school."
The Center with the support of Green For All and Dream Corps is expanding their campaign for more accessible, affordable transportation options. By developing relationships with bus riders, they also are building the power needed to tackle other critical issues facing low income residents like costly energy bills. Leslie and Alesia participated in a staff focus group and helped distribute hundreds of survey postcards in English and Spanish via their food insecurity grocery distribution program to learn about community needs and visions for a better transportation system. The survey includes questions like "Is paying for transportation a financial burden?" and "How would you like the bus system to improve?"
So far, they have learned that residents are facing numerous challenges with transportation in Rhode Island. Low income communities of color in particular need more frequent buses, longer hours, and more numerous bus stops and shelters. The bus system currently is too expensive for low income families (a one way fare is $3 if you don't have a bus pass) and information about bus schedules and routes is less accessible for speakers of non-English languages.
One policy that could help to address these challenges, the Transportation and Climate Initiative Program (TCI-P), passed the Rhode Island Senate earlier this spring and will likely be brought up for a vote again in 2022. Rhode Island is one of four jurisdictions on the East Coast to move forward with this program, which would cap carbon emissions from polluters (fuel distributors) and raise $20 million per year for projects like increasing affordable transit options and zero-emission buses. But which communities, and which projects, will benefit most from that funding is still at stake — and depends on what is in the policy language, and who is at the table to make decisions.
In the coming months, Leslie, Alesia, and other organizers at the George Wiley Center are planning to build on their survey by directly reaching out to people at bus stops, and potentially on the bus itself. By engaging with low income transit riders, they plan to share information about how this program may impact them while gathering valuable insights about the solutions that a program like TCI-P should fund. One survey and conversation at a time, organizers like Leslie and Alesia are forging meaningful connections and identifying possibilities for a more equitable transportation future for all of us