Pomham Rocks Lighthouse Run Winners 
Leading the field at the start of the Pomham Rocks Lighthouse Run 10K is #84, Shayna Cousineau of Cranston, who went on to finish first overall in the race.
Cool weather and a worthy cause created ideal conditions for the second annual Pomham Rocks Lighthouse Run, held April 23 in Riverside. Two hundred fifty-three runners and walkers of all ages participated in the event to benefit the historic lighthouse.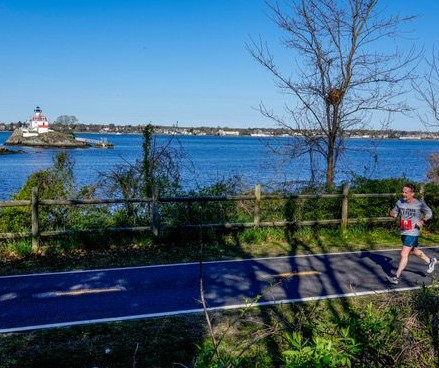 Matt Hall of Worcester, MA passes by the iconic lighthouse in Pomham Rocks Lighthouse Run recently. Matt placed first in the men's 10K overall.
First Place Winner Overall in the 10K run was Shayna Cousineau of Cranston with a time of 39:36 and Matt Hall of Worcester, MA, who clocked in at 41:21. Other 10K First Place winners included: Open (19-29), Kayla Dexter of Summerland Key, FL and Benjamin Soares of Barrington; Sub-Master (30-39), Missy Kaszuba of Rexford, NY and Kevin Abbott of Attleboro, MA; Master (40-49), Kathy Christie of Riverside and Toby Bennett of Providence; Senior (50-59), Anne-Cecile Bedford of Rumford and Johann Gomez of Rumford; Veteran (60-69), Sabina Gellrich of Swansea, MA and Brian Trahan of Pawtucket; Grand Veteran (70-98), Jean Rainwater of Providence and Paul Lambert of Cumberland.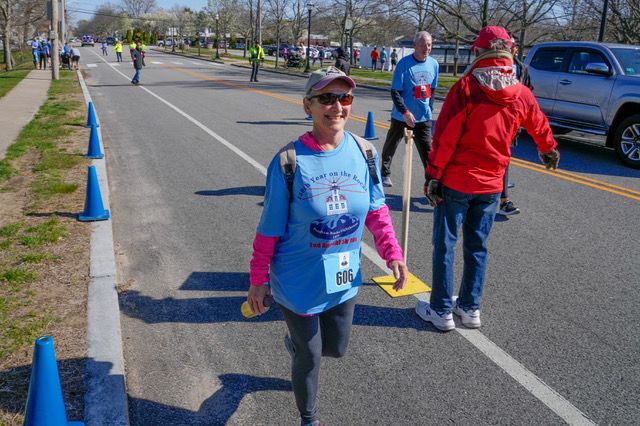 Deborah Laughlin of Riverside finishes the 5K Run/Walk course in this year's Lighthouse Run with a smile.
Coming in First Place Overall in the 5K run was Bill Yabroudy of Coventry, with a time of 18:19 and Beth Silva  of Riverside at 23:22. Other 5K First Place winners included: Junior (18 and under), Gabriella Stoothoff of Cumberland; Open (19-29), Jordan Farnsworth of Riverside and Finn Towle of Norton, MA; Sub-Master (30-39), Megan Duffy of West Henrietta, NY and Rob Johnson of Warwick; Master (40-49), Kelli Trexler of Rehoboth, MA and Erik Stoothoff of Cumberland; Senior (50-59), Leslie Battle of Warwick and Robert Johnson of Bristol; Veteran (60-69), Judith Watts of Riverside and Doug Shattuck of Bristol;  Grand Veteran (70-98), Ron Blain of Cumberland.