THE NEWPORT STRING QUARTET
The Four Corners Arts Center is pleased to present The Newport String Quartet concert on Saturday, December 3rd 2:00 -3:30 p.m.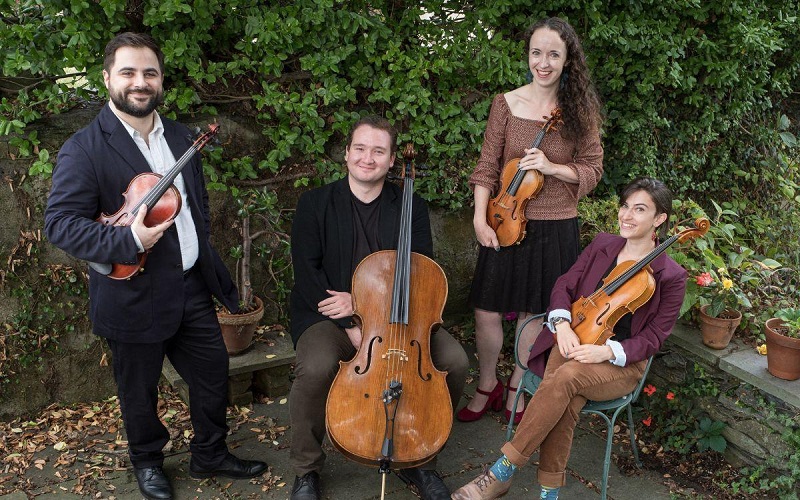 This program will include Haydn's sun-filled String Quartet in C major op 20 no 2, alongside Aftab Darvishi's moving evocation of shadows and light, Daughters of Sol. 
The concert will also include Mieczlaw Weinberg's atmospheric Aria and Capriccio and String Quartet No 2 by forgotten Ukrainian composer Dmitri Klebanov.
The Newport String Quartet is the resident ensemble of The Newport String Project, a chamber music performance and youth mentoring initiative that aims to build a community that crosses boundaries of generation, heritage, and economic circumstances through access to inspiring musical experiences for all.
The project seeks to strengthen the social and cultural fabric of the wider Newport community by presenting a professional chamber music concert series, featuring both classical and traditional music styles.
Now in its tenth season, the project focuses on growing the organization so that it can support a long-term, professional chamber music residency that builds authentic relationships between professional musicians and the community at large.
General Admission Tickets are $20.00
Non-profit support tickets are $30.00
($10.00 of a supporter level ticket supports the educational programming and mission of Newport Strings. *Tickets can be purchased in advance or at the door.
NOW BOOKING
WORKSHOPS, ART EVENTS & CONCERTS
3850 Main Road 
Tiverton Four Corners, RI
(Located within the Sculpture Park of Four Corners Arts Center)