THIS WEEK'S MUSE
PRESTON SINGLETARY
Glass art is probably as old as any art form. Obsidian is a naturally occurring black (though sometimes brown or green) volcanic glass and one of the first types of glass known to (stone age) humans. Its smooth and light-catching qualities made it an ideal material for early decorative objects. Artificial glass dates to over 5,000 years ago and was also used creatively. The development of glassblowing around 2,000 years ago was a major breakthrough in glass art.
Native American artist Preston Singletary continues this tradition, pushing the boundaries of creativity and technology, and using glass art as a platform to understand and talk about his culture and heritage.
Born in 1963, he grew up in the Seattle area with a plan for a career in music. At nineteen, he took a night security job at a glass-blowing studio to pay the bills and feed his "music addiction."
A friend working in the studio encouraged Singletary's interest in what was being manufactured. Gradually, he got involved, eventually becoming a part of the production team.
"When I began working with glass in 1982, I had no idea that I'd be so connected to the material in the way that I am."
For the first few years, working in glass was a job – he was a maker of glass objects rather than a glass artist, and he did so principally to support his ambitions in music. That changed when he began to look for ways to develop his own style.
"It was only when I began to experiment with using designs from my Tlingit cultural heritage that my work began to take on a new purpose and direction."
His great-grandmother was Tlingit, part of the indigenous peoples of the Pacific Northwest Coast of North America whose land and way of life were being eroded in the 1920s. She strove to unite the Tlingit communities and preserve the Tlingit culture.
Stories of her resilience and passion struck a powerful chord with Singletary and he turned to his heritage for artistic inspiration.
Singletary also spent time in Europe, immersing himself in the techniques and traditions of the Modernist style. Consequently, Singletary's art practice has become synonymous with creating an artistic bond between European glassblowing traditions and Northwest Native art concepts.
His work incorporates themes of transformation, animal spirits, and shamanism through elegant blown glass forms and mystical sand carved designs, much of it with Tlingit as its root and inspiration.
"I try to honor the past, the culture that I am connected to and also make something new of it."
Artist website HERE
HAPPENING
Tuesday, December 6. 10–11am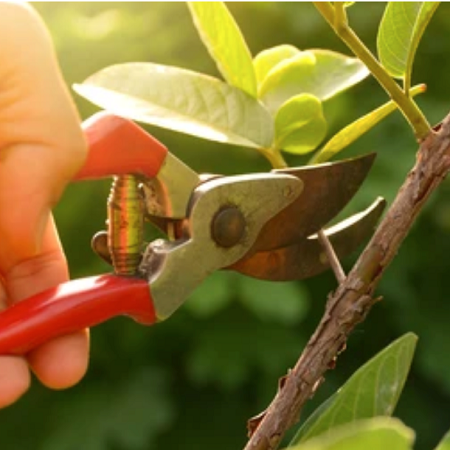 PRUNING 101: DO THE JOB RIGHT!
With Priscilla Husband
Learn all the essential basics of pruning techniques.
$14 – Member, $16 – Non-Member