NEFA GRANTS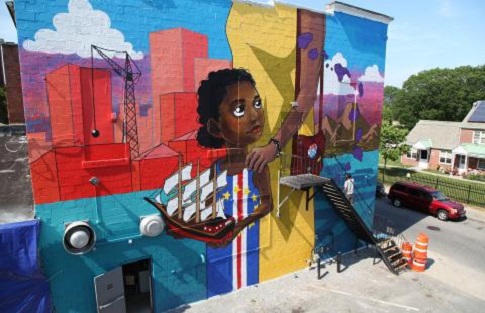 The New England Foundation for the Arts (NEFA) announces the recipients of 23 Spatial Justice grants for Massachusetts-based artists and collaborators. The grants enable communities to imagine and create public art that fosters more just, vibrant, and welcoming public spaces.
In 2020, NEFA's Public Art program launched the Spatial Justice grants in response to the challenges of COVID-19 and the perpetuation of systemic racism across the nation. With generous support from the Barr Foundation, two grants – Collective Imagination for Spatial Justice and Public Art for Spatial Justice – were created to support both the imagining and the implementation of this work. Inclusive of this fourth round of awards, NEFA has awarded $1,068,000 through 81 grants to Massachusetts artists and collaborators.
Arts can drive the change that makes public spaces in Massachusetts more welcoming and inclusive.
Collective Imagination for Spatial Justice (CISJ) grants support Massachusetts teams of artists, creatives, culture bearers, cultural organizers, and community-based collaborators to do the important work of imagining what public art that fosters positive social change looks, sounds and feels like in their community. Each team was awarded $6,000.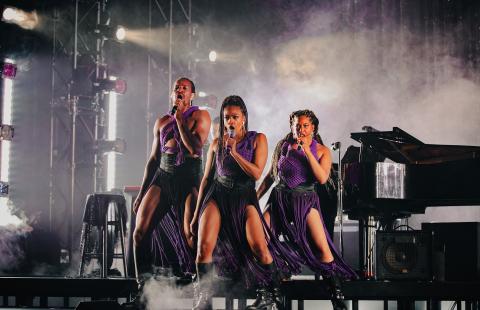 "These CISJ collectives are asking timely questions such as how to hold space for public grief and memorials in a world shaped by the pandemic, how to sustain public art making for youth, preventative strategies to respond to gentrification and artwashing, and more. This year CISJ teams will also meet virtually as a cohort, to foster a community of practice as they continue to imagine into more just public artmaking in their communities," said NEFA public art program director Kim Szeto. 
The eight Collective Imagination for Spatial Justice teams are:
Alejandra Cuadra Sanchez, Andre Lima, David Iannitelli, Filipe Borges, Leda Muhana, Brewster, MA
Community Art Center, Cambridge, MA
Eresh Halpert Rodis, Cory Diamitrios, Gwen
Kristinsdotter, Kane Two Feathers, Caitlin
Lindenmuth, Annabelle Perez de la Cruz, Concord, MA
Fall River Arts and Culture Coalition, Fall River, MA
Iva Brito, Emma York, Tobey Eugenio, and Kristen McCullin, New Bedford, MA
Jenny Herzog, Tyler Sumner, Sadie Willard, Pittsfield, MA
Lawrence Arts Collective, Lawrence, MA
Monkeyhouse, Malden, MA
Public Art for Spatial Justice (PASJ) grants support public artmaking in Massachusetts that helps communities see, feel, experience, and imagine spatial justice now, while on a journey towards realizing more just futures for our public spaces and public culture. To account for increased economic demands and a need for a more flexible project schedule, these awards were increased this year and range from $15,000-$30,000.
"PASJ projects are creating public dance, murals, pop-up 'care labs,' inter-species socially engaged art making practices, passing on Nipmuc cultural practice and re-indigenizing space, taking risks to scale up dreaming to a municipal level, and more. These artists and organizations are invested in revealing new justice-centered worlds, holding communities with care, and showcasing local creativity of artists in public spaces across the state," said NEFA public art program officer Kamaria Carrington.
The 15 Public Art for Spatial Justice recipients and projects are:
The Arts and Justice Collective, Honoring the Past, Making Way for the Present and Future, Hyannis, MA
Cambridge Jazz Foundation, Cambridge Jazz Festival, Cambridge, MA
Che Yeh, Interstitial Lives, Boston, MA
Crystal Bi / Dzidzor Azaglo, Department of Dreams, Boston, MA
Elevated Thought, Bringing Awareness to What Liberates, Lawrence, MA
Hendrick Hernandez, AHA! Night Freestyle Rap Cypher, New Bedford, MA
IBA – Inquilinos Boricuas en Acción, IBA Community Mural, Boston, MA
Louis D. Brown Peace Institute, Peace Poles, Boston, MA
Nailah Randall-Bellinger, RootsUprising, Who We Say We Are, Cambridge, MA
No Loose Braids, Indigenous Village Site in Nipnet, Worcester, MA
North Shore CDC, The Creative Point Resident Program, Salem, MA
Ohketeau Cultural Center, New Work by Ohketeau Cultural Center, Ashfield, MA
Pao Arts Center/CHUANG Stage/Asian American Theatre Artists of Boston, Found in Translation: A Play Series for Chinatown, Boston, MA
Rose Kennedy Greenway Conservancy, if by land, Boston, MA
See You in the Future Collective — Sabrina Dorsainvil, George Halfkenny, Melissa Q. Teng, Stephen Walter, see you in the future, Boston, MA
"Arts can drive the change that makes public spaces in Massachusetts more welcoming and inclusive," said Giles Li,  Barr Foundation's senior program officer for arts & creativity.
"We are proud to support NEFA's Public Art program to connect artists and fund collaborative projects that make more just spaces for all. As we emerge from the isolation we have felt so deeply during the pandemic, these creative leaders are shaping public spaces that welcome all of us back."
The next annual deadline to apply for CISJ and PASJ will be in the fall of 2023.
Learn more about NEFA's Public Art program
About NEFA
The New England Foundation for the Arts invests in artists and communities and fosters equitable access to the arts, enriching the cultural landscape in New England and the nation. NEFA accomplishes this by granting funds to artists and cultural organizations; connecting them to each other and their audiences; and analyzing their economic contributions. NEFA serves as a regional partner for the National Endowment for the Arts, New England's state arts agencies, and private foundations.
Learn more at www.nefa.org