No Break From Social Justice
Students learn advocacy skills during Alternative Spring Break
By Brian Benson, G'23 | March 14, 2023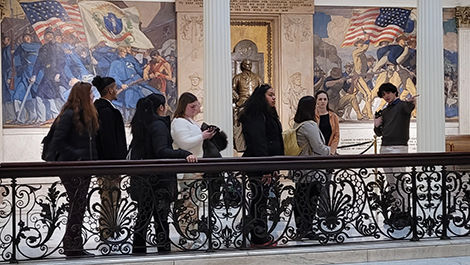 As a high school student, Maggie Kalkstein, '24, faced depression and anxiety that led her to temporarily leave school. While she had access to treatment and support, Maggie knows that's not the case for everyone.  
"So many people don't get that opportunity," the social work major and psychology minor said. "It's really important to me that (mental health) resources are broadened."  
That's the message Maggie brought to lawmakers during a recent Statehouse visit as part of the Martin Richard Institute for Social Justice's Alternative Spring Break program.
Throughout the week, almost a dozen Bridgewater State University students learned how to advocate for causes important to them while working with the Coalition for Social Justice, a grassroots organization that supports economic opportunity for those facing poverty.  
Through training and reflection, as well as service in Taunton and Attleboro, students explored social justice topics, such as free public higher education, and discovered how to positively impact their communities.
They conducted door-to-door canvassing to discuss policy issues with residents and distribute brochures with information about community resources and services.   
"I'm hoping they'll feel empowered to have that sense of 'I can make a difference in my backyard,'" said Jen Thibodeau, the institute's director of programs. "This is something that's going to give them some additional skills."  
This year marked the return of BSU's alternative break programming, which was temporarily halted due to the COVID-19 pandemic.   
Student leaders Isaiah Roig, '24, and Summa Slater, '25, began planning the week in November. They created a camp-like atmosphere, including a tie-dying activity using colors that corresponded with students' individual leadership traits.
"It was very much a challenge I was willing to take on – being able to help others be the change they want to see in the world," said Isaiah, a theater arts major and dance minor.   
Joyce Lopez, '24, was surprised by how receptive the people she met while canvassing was to the idea of free public higher education.  
"I would probably do this again in the future," said Joyce, who is majoring in health science with a concentration in pre-physical therapy. "It gave me the push that I needed."  
Joyce is not alone in looking to continue the momentum built during spring break.
"I think the impact we had will extend much further than Taunton and Attleboro and this week because now we have a skillset we can use to advocate for things," Maggie said. "We now are a group of active citizens whereas before I don't think many of us were." 
Do you have a BSU story you'd like to share?
Email