Arts in the Village Presents Jonathan Cohler and Rasa Vitkauskaite on April 29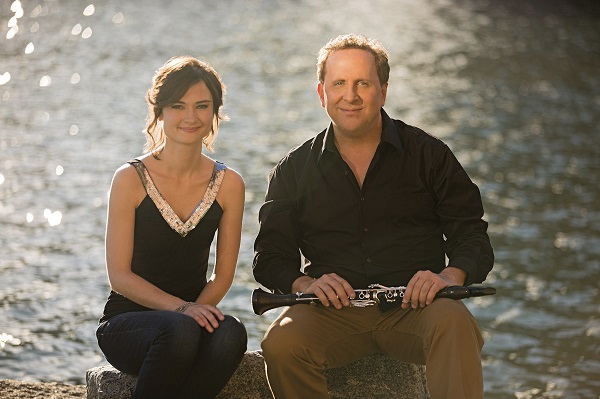 Rasa Vitkauskaite and Jonathan Cohler
On Saturday, April 29, Arts in the Village presents a celebration of chamber music for clarinet and piano featuring renowned clarinet soloist Jonathan Cohler and multiple-prize-winning pianist Rasa Vitkauskaite. Known throughout the world as today's leading clarinet-piano duo, they have recorded four widely acclaimed CDs and have appeared at numerous major international music festivals.
Described as "flawless," their performances achieve an ideal blend of elegance, delicacy, and joie de vivre. Program highlights include selections from the duo's most recent album Latin Journey featuring works of several celebrated Latin American composers. The concert will also include engaging introductions by both Cohler and Vitkauskaite and promises to be an exciting evening.
Jonathan Cohler is recognized as "an absolute master of the clarinet." Through his performances around the world and on record, he has thrilled an ever-widening audience with his musicianship and total technical command. His technical feats have been hailed as "superhuman," and his many recordings have received resounding accolades and awards.
In recent years, Mr. Cohler has teamed up with Lithuanian pianist Rasa Vitkauskaite to form today's leading clarinet-piano duo.
Mr. Cohler is Professor of Clarinet and Chamber Music at the Longy School of Music of Bard College in Cambridge, MA. He is a Vandoren, Rossi, and Royal Musical artist and records exclusively for Ongaku Records.
Internationally acclaimed Lithuanian pianist Rasa Vitkauskaite has been hailed for "artistry of poetic and observant sensitivity" and described as "a Beethoven interpreter of penetrating insight."
Recently invited to join the prestigious Steinway Artist roster, Rasa is quickly establishing herself as one of the leading recording artists of her generation. 
Winner of the Grand Prix at the Mendelssohn Cup Piano Competition in Italy, Rasa Vitkauskaite has won top prizes at numerous international piano competitions, including First Prizes at Les Rencontres Internationales des Jeunes Pianistes (Belgium) and the Rubinstein Piano Competition (Paris).
Recent recital tours have taken her around the world.
This concert will take place on Saturday, April 29, at 7:30 p.m., at Goff Memorial Hall, 124 Bay State Road, in Rehoboth, MA 02769.
 The doors open at 7:00 p.m., first come, first seated. 
Wheelchair accessible. 
General admission is $22, $20 for seniors, and $8 for students and children. 
Payment may be made by cash, credit card, or check (made out to Rehoboth Antiquarian Society).
For information, call 508-431-6879;