SUMMER BOOK SALE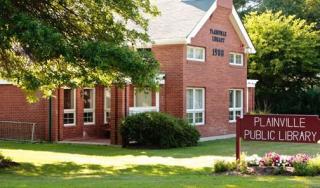 The Friends of the Plainville Public Library will hold their Summer Book Sales during normal library hours in the conference room. Prices are 50 cents for mass market, $1 for Trade/Hardcover, CDs, DVDs, and Books-on-CDs cash only. The sale will include the following genres:
June 16-23 – Children
June 26-30 – Library Discards
July 17-21 – Fiction & Classics
July 24-28 – Suspense & Mystery
July 31-August 4 – Romance, Young Adult, Horror & Sci-Fi/Fantasy
August 7-11 – Non-Fiction
There will be a $5 bag sale on the last day of each sale June 23 & 30, July 21 & 28, August 4 & 11 in the conference room only for the above genres.
We supply the bag you fill it.
Cash only.
Also available will be our on-going sale of children's books, adult books in the Friends' hallway, Best Sellers, books of gift-giving quality and books for High School Summer Reading of which are not included in the bag sale.
Prices range from $1-$5 cash only.
The library's summer hours are Mondays & Tuesdays 9-3, Wednesdays & Thursdays 10-8, and Fridays 1-5.
The Plainville Public Library is located on Rte. 1A at 198 South Street.
For further information, you may call the Plainville Public Library at 508-695-1784.