Christmastime at Linden Place is in full swing!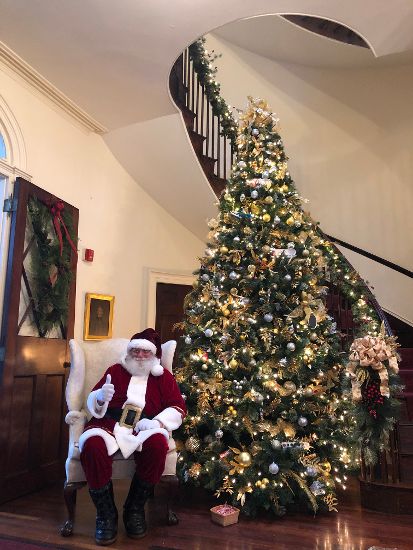 A towering Christmas tree framed by a four-story spiral staircase, elegant decorations on every mantle and in every nook and cranny, original artwork by top local artists…these are just a few of the many delights that await you this Christmas season at Linden Place Mansion. 
This year, the elegant décor throughout the mansion is complimented by original artwork by members of the Providence Art Club including watercolors, ceramics, glass, handmade books, illustrations and prints, paintings, sculpture, glass and more.
The mansion's parlors, bedrooms, and magnificent chapel-like Gothic conservatory are magnificently transformed for your enjoyment.
The mansion opens for the holiday season on Friday, November 23rd and tours run through Sunday, January 6th.
Self-guided tours are available Tuesdays through Saturdays, 10 a.m. to 5 p.m. and Sundays from 12 p.m. to 5 p.m.
Admission is $12, $10 for seniors and students, $5 for children and free for kids under 12.
Don't forget to visit Linden Place's Museum Shop which is stocked with wonderful hostess gifts and a broad range of Rhode Island history books as well as an extensive collection of gifts for all ages and styles.