Join us on a Caffeine Crawl through the Valley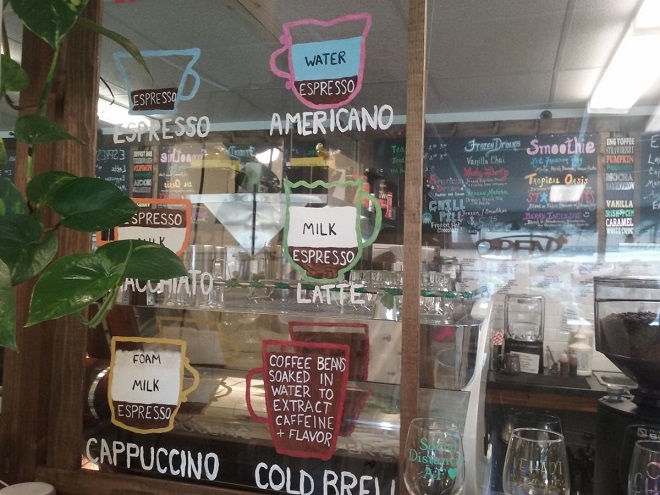 Installment #1
We read with great interest a recent article in Travel & Leisure about the benefits of getting out and exploring the world around you, even if that means "rediscovering what's so special about your own hometown, city or region."
So following along on the heels of National Coffee Day, which was September 29, and a suggestion in the aforementioned article, we decided to do a caffeine crawl beyond Dunkin Donuts and Starbucks and try some of the local coffee shops in various locations around the Blackstone Valley.
The local coffee shop often generates a sense of community and is a valuable resource for gathering with friends. Case in point the fictional cafe "Central Perk" played a major role in the sitcom "Friends" as a place where the characters could unwind and drink some brew usually from very large coffee cups .
The local cafe has also been a place for local musicians and poets to perform acoustic music or poetry readings. Here, a sip of coffee and artistic inspiration join together in the community.
Red, White & Brew and Coffee & Cream, North Smithfield
We headed north and visited two coffee shops featured in our Culinaria Live series –  Red, White & Brew and Coffee & Cream both in North Smithfield and both family run businesses with interesting stories.
First, Red White & Brew featuring a mom and son team. If you want to know all there is about coffee, this is the coffee shop to visit. The counter where you order your coffee features artwork on the glass with images of coffee cups and descriptions of various types of coffee. For example (use the photo with the descriptions) Latte is milk (on top) Espresso (on bottom) whereas Macchiato is the opposite Espresso (on top) and milk (on bottom).
If confused, just ask Michael. He is quite passionate about the coffee they serve. Their specialty is the Frozen Hot Chocolate, but we decided to try the nitro brew with a bagel. Nitro brew is frothy at the top, creamy without the cream.
They have a delightful set up of tables in their adjoining gift shop, The Budding Violet, which features items by local artists with disabilities. While we sipped our nitro and ate our bagel, we browsed with our eyes.
When we finished we picked up a few birthday gifts that day and look forward to going back for early Christmas shopping while sipping their new October flavor, the Monster Mash Latte, a combination of some favorite fall flavors: pumpkin spice, mocha and hazelnut topped with whipped cream sounds hauntingly decadent.
Next up, Coffee & Cream. This is another family-run coffee shop that just reopened in their current location at Slatersville Plaza on Victory Highway.