A LEGACY VIEW
BY DON DOUCETTE
I recently observed on social media a reference to the dam next to Larson Woodland in Attleboro as Larson Dam and I will hopefully set the matter straight – or…attempt to set the matter right as I am not the final word, but rather possess a lifetime experience, some as a kid living in that neighborhood. God bless the Larson family for their kindness and generosity.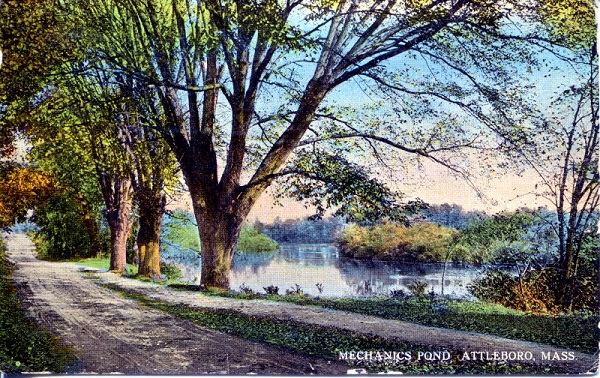 As I understand, the traditional name for the dam is Watson Dam or Watson's Dam. The impoundment is commonly known for two names: Mechanic(s) or Mechanics Pond and/or Watson's Pond.
The namesake for Watson's Dam and Pond is for Mr. Watson the former owner of the adjoining Watson Silversmith Factory – now recently renovated as Sterling Lofts.
Mr. Watson's home estate was a property now developed as condo units across from Saint John's Church.
The industrial site between Larson Woodland and Mechanic Street, including several former mill houses and later, Allen's Variety Store, was known some years ago as Mechanicsville. An old foundry pre-dated the establishment of the Watson Factory.
The old Watson Dam collapsed during my time following years of use and was constructed with wooden supports (timbers) which finally weakened with age and  breached.
One branch of the Ten Mile River was directed beneath the Watson Factory years ago to provide water power to the manufacturing operation.
That river branch was questionably filled by the former owner of the Watson Factory building during modern times – one half mile from the center of Attleboro seemingly without a whimper – a mystery remaining in my mind till this day.
Today blacktopped and used as parking space. No more river.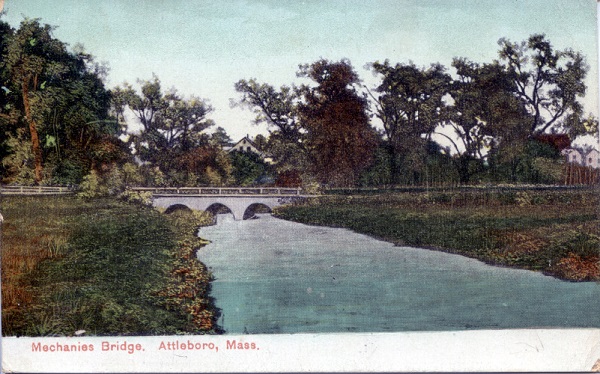 The present Ten Mile River branch flowing between Watson Dam to Mechanic Street near the public garden, as I personally observe, is an alternative river course engineered as a straight (canal) spillway situation to help relieve the Watson Factory from the periodic threat of floodwaters.
A great deal of glacial till was probably excavated next to Larson Woodland and repurposed to create this secondary river course and dam.
Perhaps this fill was used to construct and elevate Riverbank Road contoured in its present raised state.
Narrow spillway channels exist south of Watson Dam and during high water events, rust bleeds intermingled with ground water.
Other latent infrastructure exists and some years ago I personally surmised that this is the site of the former foundry predating the Watson complex – perhaps one of the oldest historically significant early industrial sites associated with East Attleboro.
I submit, the bleeding rust most likely results from surrounding and yet existing slag deposits.
As previously stated, Riverbank Road is raised with purpose…Willett Field was developed in flood plain (with a present drain system in place) with the raised Riverbank Road surface lifted above the flood plain level for proper drainage functioning.
The (false) Ten Mile River at this point is trenched floodplain and serves as a spillway.
The Sterling Lofts car park is flood plain – all beneath water during the high water events of two hurricanes during the mid-50s. I was an on-scene eye witness to those events.
A byproduct of filling one branch of the Ten Mile River directly associated with the former mill will probably cause the lower end of Mechanic Pond to go eutrophic and eventually revert to vegetated wetland due to the lack of water flow.
The lower end of the same river branch to Mechanic Street will likely also vegetate during time in the same manner.
The public garden presently is filled floodplain and situated well above the original wildflower meadow once gently sloping to the Ten Mile River – this, prior to the construction of the former K of C Hall. I was an eye witness.
The house lot at the corner of Mechanic and Third Streets is filled floodplain. I was an eye witness.
Hodges Street to Lamb Street, for the most part, is filled floodplain all accomplished during the course of many years.
A portion of the present site for proposed development along Waterfront Drive was once a natural Ten Mile River oxbow filled by the City of Attleboro with trash years ago and more recently, thousands of grant and tax dollars were expended to muck it all out…and away.
And through a lifetime of personal observation…to this point no mention of all the active chemical pipes dripping directly into the Ten Mile River close to the City center. I won't go there in detail, but I was also an eye witness.
I will not be around much longer and feel personally compelled to leave this narrative behind as a lasting legacy.
Don Doucette
"Ten Mile River Rambles"
Friends of the Ten Mile and Bucklin Brook