Attleboro, MA – February 27, 2021 – Thru March 16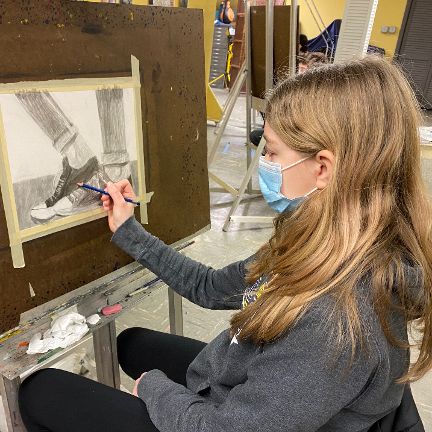 SAMANTHA DUBOFSKY
The Attleboro Arts Museum is pleased to present its 8 th  Annual All School Show, an art student exhibition that will be held          
February 27  – March 16
100  pieces of artwork created by students of all ages who were enrolled in a W. Charles Thompson
Museum School art class or workshop during the Museum's 2020 winter and/or fall programming are showcased.  All mediums are on  display from drawing & painting to printmaking, ceramics and more!        
 www.attleboroartsmuseum.org
Typically, the All School Show is held for one-day in the Museum's main gallery and is combined with an in-person reception & open house that invites participants and the community at large to celebrate th artwork on display with fun activities such as kids crafts and live instructor demonstrations.
"Even though this exhibit will look and feel differently than previous years – the artwork remains incredibly powerful – viewers will experience bright, bold and beautiful works that will shine out from   their screens!" comments Abby Rovaldi, Programs Coordinator and All School Show Curator.     
  Rovaldi continues, "The show will be available for eighteen days as opposed to one – a benefit of this artwork being presented online. It will be open all hours of the day and accessible to those not comfortable visiting an indoor space during the pandemic."
Exhibiting art it is an act of bravery, whether students are considered beginners or more advanced.  Learning new art-making processes, experimenting with unique materials and exploring different ideas all lend a hand in building the self-confidence of any student artist.
"Going to art class is a creative release. Being able to sit down and become completely immersed in a project is not only fun but is actuallyquite meditative. I always look forward to each   final piece!" remarks Liv DeSimone, AAM Student.