Free Virtual Valley Talks Continue with Discussion of the Local Underground Movement: The Sentinelle Affair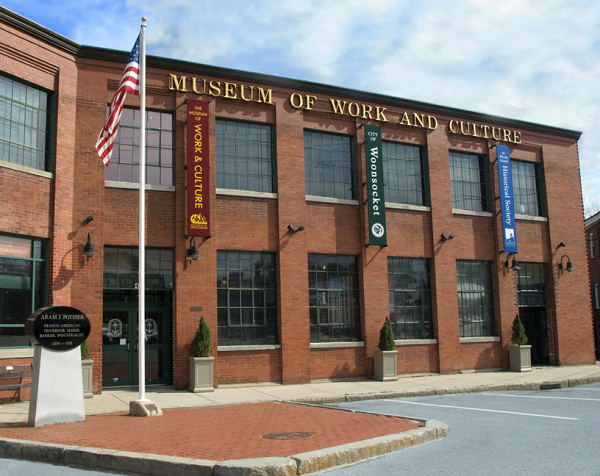 WOONSOCKET, R.I. – Valley Talks, a series of biweekly historical lectures by the Museum of Work & Culture, continues Sunday, March 7 at 1pm on Zoom.
Writer and historical reenactor Paul Bourget will examine the Sentinelle Affair, the local underground movement to preserve French Canadian culture that led to the excommunication of 61 congregants. The Movement Sentinelliste, one of the most divisive periods in Woonsocket's history, caused battle lines to be drawn among French-Canadians in St. Ann's Parish and throughout New England. Bourget will discuss the roots of the movement, its impact on the city, and the long-term ramifications of the members' actions.
Individuals can register for the talk by visiting https://bit.ly/2LrF3j4
This year's series is presented as part of the Rhode Island Historical Society's Taking a Stand in Rhode Island, a yearlong examination of how the people who have called this place home, from the 17th century to the recent past, have identified aspects of society that needed to shift and how they worked to change them.
Paul Bourget is the owner of Bourget & Associates.
He was the editor, researcher, and co-writer of Towers of Faith and Family, a history of Woonsocket's St. Ann's parish, and was the founding president of St. Ann Arts and Cultural Center.
He currently serves as the Immediate Past President of the Museum of Work & Culture's Preservation Foundation and is Chairman of the Woonsocket School Committee.
Other Valley Talks will include:
March 21: Author David Vermette will discuss how the U.S. mainstream perceived French-Canadians when they were an immigrant community in New England at the turn of the 20th century.
About the Museum of Work & Culture
The interactive and educational Museum of Work & Culture shares the stories of the men, women, and children who came to find a better life in Rhode Island's mill towns in the late 19th- and 20th centuries. It recently received a Rhode Island Monthly Best of Rhode Island Award for its SensAbilities Saturdays all-ability program.
About the Rhode Island Historical Society
Founded in 1822, the RIHS, a Smithsonian Affiliate, is the fourth-oldest historical society in the United States and is Rhode Island's largest and oldest historical organization. In Providence, the RIHS owns and operates the John Brown House Museum, a designated National Historic Landmark, built in 1788; the Aldrich House, built in 1822 and used for administration and public programs; and the Mary Elizabeth Robinson Research Center, where archival, book and image collections are housed. In Woonsocket, the RIHS manages the Museum of Work and Culture, a community museum examining the industrial history of northern Rhode Island and of the workers and settlers, especially French-Canadians, who made it one of the state's most distinctive areas.