TONY ESTRELLA PRODUCTION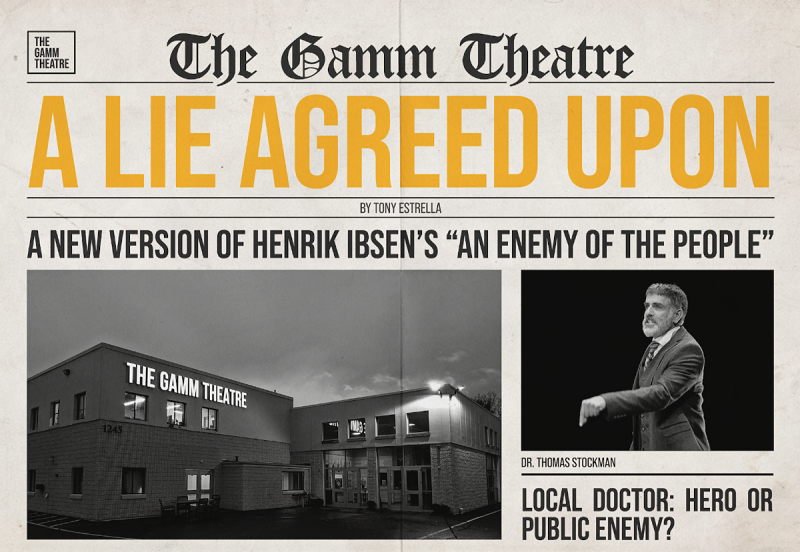 We are pleased to present the premiere   of   A LIE AGREED UPON   by Tony Estrella, a brand-new version of Henrik Ibsen's  An Enemy of the People .
The play will be aired live digitally on Friday, June 11 at 7:30pm for FREE and be available through The Gamm's website for three days following the initial webcast.
ABOUT  A LIE AGREED UPON
The future is looking bright in Springfield! A brand-new hot springs Spa and Resort is about to open its doors. Hotels and shops are booming in anticipation of a blockbuster tourist season. The Spa's visionary chief medical officer Dr. Thomas Stockman has been hailed as a local hero for turning the humdrum town into a must-see destination until he discovers that the springs themselves are poisoned and he insists on doing the 'right thing.'
Morality meets self-interest, inconvenient truths fight alternative facts, and minority rights clash with majority rule in a powerful, timely interrogation of individual conscience versus the will of the "people."
SEASON ANNOUNCEMENT COMING IN JUNE!
Our strange Season 36 is coming to an end and we have been hard at work behind the scenes planning a knockout Season 37 which is set to start IN PERSON, October 2021 .
Those of you who renewed subscriptions in 2020 for what was supposed to be our Season 36 – we thank you for patience and unwavering support. Good news: your tickets will now be rolled into our upcoming Season 37! Our box office will be in touch with you as October gets closer.
For those of you who want to subscribe or purchase single tickets to upcoming shows, stay tuned! We will be making an announcement in June regarding our season!