TALE OF TWO CITIES: PIONEERING WOMEN ARCHITECTS IN PROVIDENCE AND BOSTON (VIRTUAL PROGRAM), THURSDAY, MAY 27, 5:30 P.M. EDT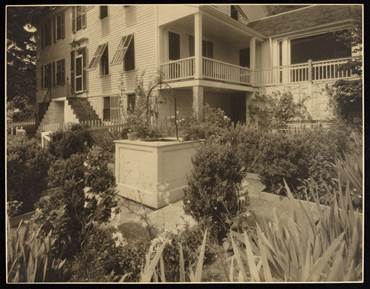 Tale of Two Cities: Pioneering Women Architects in Providence and Boston (Virtual Program)
Thursday, May 27, 5:30 p.m. EDT
Despite limitations, hundreds of women across the country entered the architecture profession before being given the right to vote in 1920. Although they designed thousands of buildings, many of these trailblazing women's names are still not well known. Join Rachel Robinson, Providence Preservation Society's director of preservation, and Leigh Schoberth, Historic New England's senior preservation services manager, for an introduction to several women who practiced in Providence and Boston at the beginning of the twentieth century.
Explore how Frances Henley, Margaret Burnham Geddes, Lois Lilley Howe, and Eleanor Raymond influenced architecture through innovative designs in planning, education, and sustainability.  Tickets are free; donations are encouraged. 
Register for this virtual program here:  https://my.historicnewengland.org/11338/pioneering-women Please call 617-994-6678 for more information.  The link for the webinar will be included in the order confirmation for this program.
Click here: to become a Historic New England member today to help us continue to offer free programs for all to enjoy.  Click here: to become a member of Providence Preservation Society
About Historic New England
Historic New England is the oldest, largest, and most comprehensive regional heritage organization in the nation. We bring history to life while preserving the past for everyone interested in exploring the New England experience from the seventeenth century to today.
Historic New England owns and operates thirty-six historic homes and landscapes spanning five states. We share the region's history through vast collections, publications, programs, museum properties, archives, and family stories that document more than 400 years of life in New England.
Visit 
About Providence Preservation Society (PPS)
The Providence Preservation Society (PPS) was established in 1956 to respond to the proposed demolition of a number of 18th- and early 19th-century houses on College Hill.
Unlike many historic preservation organizations which were formed to preserve a particular building, PPS has always been an advocate for neighborhood revitalization. From that small neighborhood group, PPS has grown into a multifaceted citywide preservation and planning organization.
Our mission is to improve Providence by advocating for historic preservation and the enhancement of the city's unique character through thoughtful design and planning.
Visit www.ppsri.org