HOLIDAY FLOWER POWER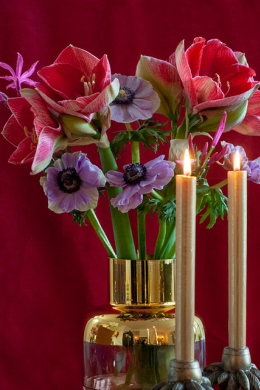 Are you looking forward to Christmas, and enjoloroying the Christmas atmosphere with your loved ones? Bulb flowers provide additional color during the holidays, creating that intimate, cozy atmosphere.
 
Extra dimension
Christmas is the perfect time to go all out in decorating your home. A Christmas tree, lights, garlands, candles, and baubles; as long as it breathes Christmas. Did you know that flowers can add an extra dimension to your Christmas decorations? Bringing nature into your home, with intense, deep colors, makes Christmas extra festive.
 
Pink
With their deep and radiant colors, flowers like amaryllis, tulips, hyacinths, and anemones are real eye-catchers. You don't necessarily need to go for red: why not try pink tones this year for a change? You will see that in between all the glitter and glamour, pink will bring an additional hint of cheer.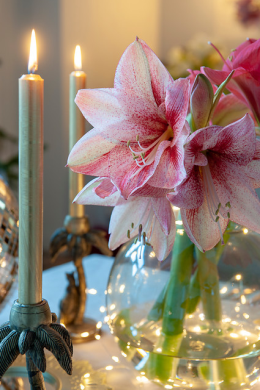 Show
To let cut flowers sparkle effortlessly, put them in a beautiful vase and combine them with lights or other decorations. Pre-forced bulbs are also spectacular! Their performance as they grow from bulb to flower is always a fascinating sight to behold! Whatever you choose, go for something that makes you happy.
 
If you want to find out more about bulb flowers and pre-forced bulbs, visit