THIS WEEK'S MUSE
ROBERT MAPPLETHORPE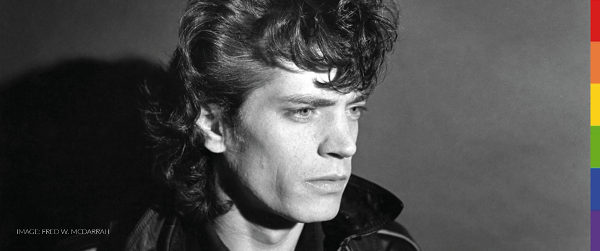 "I am obsessed with beauty. I want everything to be perfect, and of course, it isn't. And that's a tough place to be because you're never satisfied."
Robert Mapplethorpe was a photographer, known for his divisive and controversial subject matter in the 1970s and '80s. His work ranged from portraits of statuesque figures of nudes, flowers, and scenes from underground gay scenes in New York.
Mapplethorpe took his first photographs in the late 1960s using an instant Polaroid camera. Soon after, he began working as a house photographer for Andy Warhol's Interview magazine. This, and other work from mentor and future lover Sam Wagstaff, gave him access to professional cameras for the first time. But, in this emerging scene, perhaps the most important development for Mapplethorpe was that he gained almost unlimited access to emerging socialites, happy and willing to be his temporary photographic Muse.
"I went into photography because it seemed like the perfect vehicle for commenting on the madness of today's existence."
He worked primarily in a studio, almost exclusively in black and white. His erotic approach—often referencing religious or classical imagery—explored a wide range of sexual subjects, depicting the BDSM subculture of New York in the 1970s.
He was interested in universal artistic values like symmetry and beauty and approached his subjects with an eye for delicate composition and cinematic lighting. He is considered a formalist for his sculptural style. For him, photography was an immediate means of producing sculptural artwork. He often said that he would work in marble if it weren't so time-consuming.
He emerged in a post-countercultural America when photography had lost the magic status it had enjoyed in the 1920 and '30s. Two world wars and significant conflicts in Vietnam and Korea helped push photography into a more realistic, utilitarian realm and away from its creative origins. The rise of photography in the 1960s completed the push. In the 1970s and '80s, Mapplethorpe brought it back. And back into the art galleries.
Born in Floral Park, New York, in 1946, he was on trial all his short life. Anti-gay legislation and social prejudices saw him having to overcome homophobia and ignorance. Seeing his work hanging in prominent galleries such as the Tate in Britain and the J Paul Getty Museum in Los Angeles, one might say that he eventually won the battle, albeit posthumously. Mapplethorpe's art is challenging and beautiful, technically proficient and artistically profound.
"The whole point of being an artist is to learn about yourself. The photographs, I think, are less important than the life that one is leading."
Today, 33 years after his death, he changed popular culture through his art. The sort of pictures he dared to shoot are now shot every day by millions—minus his style—on social media. This change, this victory, is being celebrated this year in two major exhibitions in the US and in the documentary "Mapplethorpe: Look at the Pictures," due for release this summer.
"I think you have a really interesting life as a photographer. To me the most important thing is my experience, and not anything else. I care more about that than anything—I care about what I've gone through."
HAPPENING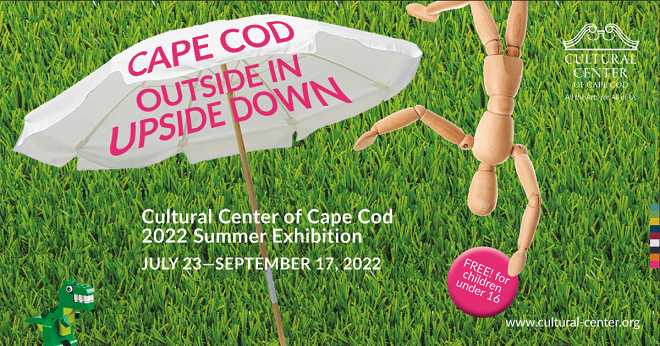 Warm weather, live music, trips to the ice cream shop, long evenings, cookouts, giggling children, and toes in the grass are some highlights of a well-spent summer. From July 23 to September 17, the Cultural Center brings those highlights INSIDE our building with our new exhibition "Outside In, Upside Down." So get ready for summer activities without needing bug spray and sunscreen!
The exhibition will turn summer on its artistic head as we transform the Great Hall into an indoor lawn, and the entire collection will hang from the gallery's ceiling. We invite you to enjoy the work by walking across the lawn, relaxing on Adirondack chairs painted by local artists, or laying on a giant beach towel! This exhibition is all about fun and family.
For our 2022 exhibition, we wanted to create something that would connect to the heart of our family audience and community. Expanding our audience here at the Cultural Center is crucial for long-term sustainability, and we wanted to bring the Cape something surprising, artistic, and experiential.
"Outside In, Upside Down" is not only focused on the art of summer but also the human connections. The exhibition will also include a giant "sundae" playroom and Lego® build room to achieve these connections. Of course, what would summer be without live music? From the sounds of Stevie Wonder and The Beatles to Mozambique Jazz and music from the New Black Eagle Jazz Band, there will be something for everyone at the Cultural Center this summer!
Click here for more information!
Save the Date for the Opening Event
July 22 from 5-8pm
See you at the Center!
Molly and the Cultural Center Team