CREATIVE WRITING IN THE SPOTLIGHT THIS APRIL AT LINDEN PLACE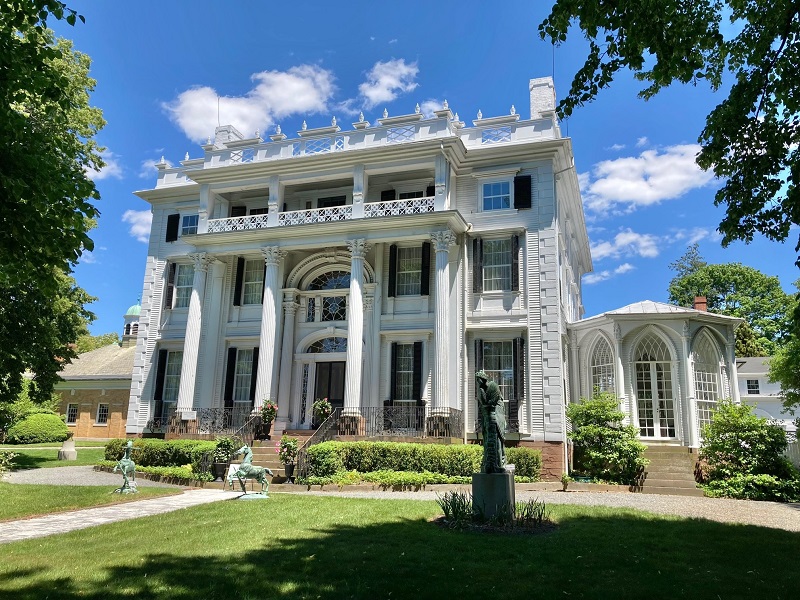 Writing workshops, webinars, a write-in, and more throughout the month
In tandem with their yearly writers' residency program, Linden Place has partnered with community organizations and schools that include School One/WriteRI, What Cheer Writers Club, Roger Williams University Dept. of English and Creative Writing, and the Bristol Historical Society to create a month of programming for writers and would-be writers.
The events are an expansion of the Linden Place Writers Residency program which provides 8 selected Rhode Island writers with free workspace, $100 travel stipend, consults with a sensitivity reader, research support and more.
"Out of the Archives, on to the Page." Catherine Zipf of The Bristol Historical Society will do a free webinar "show and tell" of 19thcentury objects in the collection and explain how historic fiction writers and researchers can locate maps, directories, census and ancestral data, and more in the archives. Thursday April 6 from 6:30-7:30pm.
"Mini-Memoir Workshop for Midlife Women."Best-selling author Ann Douglas will use her latest book Navigating the Messy Middle: A Fiercely Honest and Wildly Encouraging Guide for Midlife Women to prompt participants through a two-hour generative writing workshop with mini-memoir exercises. Wednesday April 12 from 6:30-8:30pm. Limited to 15 people. Cost $10.
"Let's Make a Murder Mystery"Teen Writing Workshop. It was a dark and stormy night. And the butler did it. While wielding a game of Clue! Presented by School One and WriteRI, this workshop invites teens to explore how a murder mystery actually works. Investigate the trope of detective-as-genius, explore 'hard-boiled' writing, look at the impact of abolitionist movements on police narratives, and then put together a story that will blow everyone away. No experience necessary. Open to students in grades 7-12. April School Vacation Week. Limited to 15 participants. $20 sliding scale fee.
"Fairytales and Folklore" Teen Writing Workshop. Presented by School One and WriteRI, teens will explore fairytales and folk tales by looking at classic and contemporary versions of fairytales and discussing their characteristics, archetypes, and tropes before getting to the business of writing our own fairytales and sharing them with the class. Open to students in grades 7-12.  April School Vacation Week. Limited to 15 participants. $20 sliding scale fee.
"Writing Early Black History with Authenticity & Sensitivity."In this webinar Renee Harleston, founder of Writing Diversely, will explain what a sensitivity reader is and how they help writers create authentic, diverse worlds and characters. Discussion points include common stereotypes and tropes, use of language, and more nuances of writing early Black history with enslaved or enslaver characters. There will be time for audience questions at the end. Tuesday April 18 from 6:30-7:30pm. Cost $10.
"Under the Lindens: Write-In." Presented by What Cheer Writers Club, this community write-in invites local writers to gather and work on their individual projects in a community setting. Writers can work at tables in the ballroom or across the expansive grounds of this historic landmark. Coffee provided! Sunday April 23 from 11-4pm.Free for What Cheer members; $10 general public with "Pay What You Can" option.
"Stanzas & Slices" Student Poetry workshop. Roger Williams University Dept. of English and Creative Writing invites RWU students to partake of a pizza slice at this informal poetry workshop. Free. Limited to 24 students. Sunday April 23 from 6-7pm.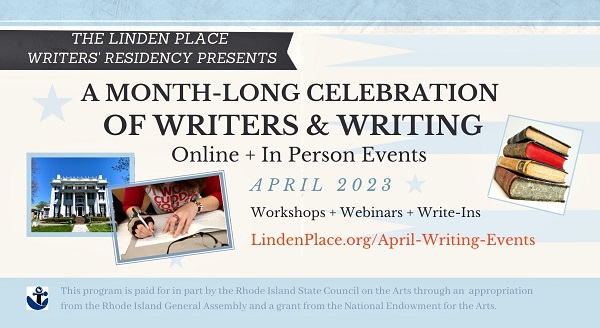 Registration information for all events can be found at LindenPlace.com/writers-residency. Linden Place is located at 500 Hope St, Bristol, RI 02809. The residency is made possible in part by a grant from the Rhode Island State Council on the Arts, through an appropriation by the Rhode Island General Assembly and a grant from the National Endowment for the Arts.