Art League RI is seeking submissions of artwork to be installed for our annual public art exhibition, Windows on Pawtucket. This exhibition is a collaboration between the Pawtucket Foundation and Art League RI and is now entering its fourth year.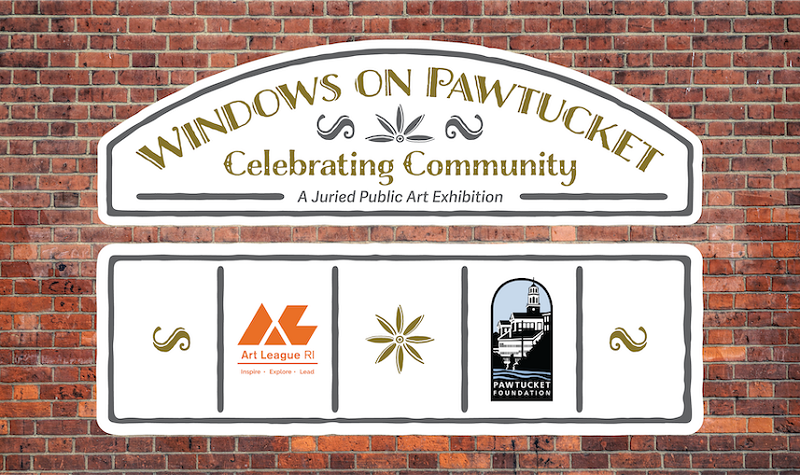 The theme for this year's exhibit is "Celebrating Community" with a focus on the city's rich cultural heritage and its role in the history of textile manufacturing.
EXHIBIT LOCATION:
This year, the exhibition will be on display at an established café and catering business, Harvest Kitchen, a part of Farm Fresh RI. Located at 2 Bayley Street Pawtucket, RI, the Harvest Kitchen location will fill a minimum of 16 windows, with an opportunity to increase the amount of artwork by displaying the work inward and outward-facing. From the Harvest Kitchen location, the artwork can be seen and appreciated by the passers-by walking along the pedestrian corridor to and from the Pawtucket-Central Falls Transit Hub, as well as customers dining at the Harvest Kitchen Café. Artwork selected by a panel of jurors for this location will be installed in late September and on display from October 6, 2023, through late August 2024.
ELIGIBILITY:
Building on the success of the past three years' exhibitions, this year's Call for Entry has been expanded to all New England artists with preference given to local artists from Pawtucket and Central Falls, RI. The Entry Fee is waived for artists living and/or working in Pawtucket or Central Falls, RI.
Artists may submit up to three images suitable for a storefront window. Successful submissions will be those that are exciting, colorful, and engaging, making them easily visible to street traffic. The call is open to artists 18 years or older throughout the New England region. Artists living and/or working in Pawtucket or Central Falls are encouraged to apply. Selected artworks will be published on Art League RI's e-commerce website. All sales will be managed through Art League RI.
SELECTION OF ARTWORK: Submitted images will be reviewed by a jury committee to determine which artists' styles and artwork are the best fits for the window display or the galleries. Applicants will be notified in writing of the jurors' decisions by mid to late September.
AWARDS:
o 1st Prize: $500
o 2nd Prize: $300
o 3rd Prize: $100
Please read this Prospectus carefully and only consider submitting work if you can comply with the requirements and timetable outlined in this document.

IMPORTANT DATES
Notification of Acceptance: On or before Friday, September 22, 2023, via email. No inquiries, please. All decisions are final.
Installation Dates: Installation at the Harvest Kitchen location will take place during the last week of September 2023. Specific dates will be announced later. Installation arrangements will be coordinated by Pawtucket Foundation, Art League Rhode Island, and the artists. The Pawtucket Foundation will be the primary point of contact with the building owners. Artists accepted and assigned to the Harvest Kitchen location must be prepared to install their work which will require at least one preliminary visit to their assigned location.
Exhibition Opening Reception: To Be Determined
De-installation: De-installation for work located at the Harvest Kitchen will take place in late
August 2024 (exact date to be determined) and will be coordinated by Pawtucket Foundation,
Art League RI, and the artists. The Pawtucket Foundation will be the primary point-of-contact with the building owners.
Questions: Contact office@artleagueri.org or call (401) 861-0500. To learn about other ALRI exhibits and programs, visit www.artleagueri.org