POMHAM SANTA VISITS RIVERSIDE
A blanket of fog and intermittent showers did not stop Santa from visiting Riverside by boat on November 18.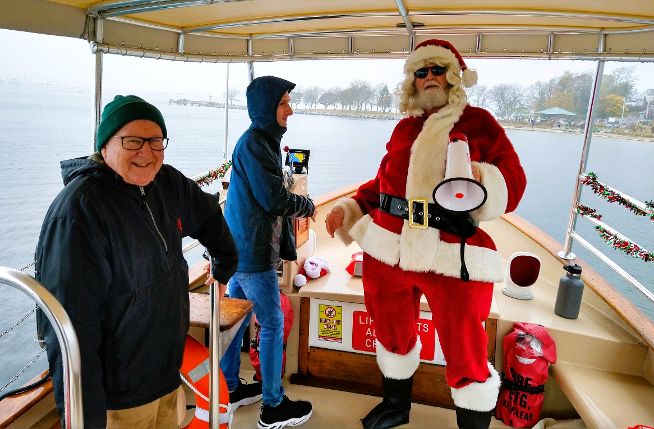 On the Lady Pomham II are, left to right, Dave Kelleher, one of the founders of Friends of Pomham Rocks Lighthouse, Alex Dias, Boat Captain and Vice Chair of the group, and Santa, member Andy Leddy.
The Lady Pomham II, the bright red launch of the Friends of Pomham Rocks Lighthouse, was decked with red and green garland and brought Pomham Santa and his elves to the shore of Sabin Point Waterfront Park, Riverside, to ring in the start of the holiday season. Guests of all ages watched from the shore or dock and enjoyed hot cocoa and Munchkins, courtesy of Dunkin', under cover of the park gazebo.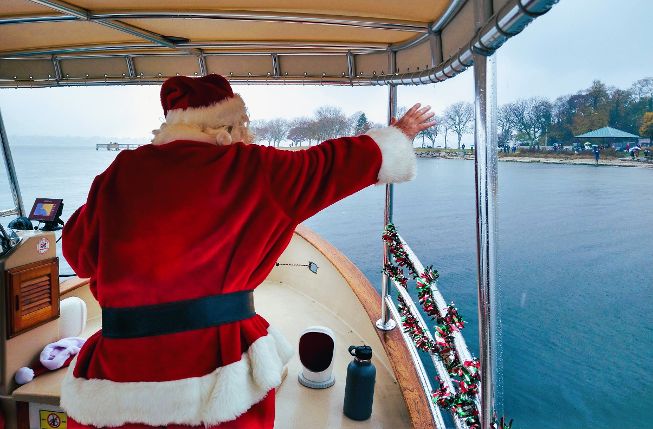 Christmas ornaments were available for sale, including this year's white satin glass ball ornament that features a colorful picture of the historical lighthouse, and a timeless Fresnel lens ornament, a replica of the iconic beacon which is housed in the Pomham Rocks Lighthouse museum.
For those unable to attend Santa's visit, both ornaments can be ordered by calling or texting 401-742-2751 or sending an email to lighthouse1871@cox.net. Include your name, contact information and the ornaments requested. The cost is $20 each and can be paid in cash or by check, payable to Friends of Pomham Rocks Lighthouse. Orders in the East Providence/Barrington area will be delivered.