WOMR INTERNATIONAL WOMEN'S DAY 2021 Monday, March 8    6AM – Midnight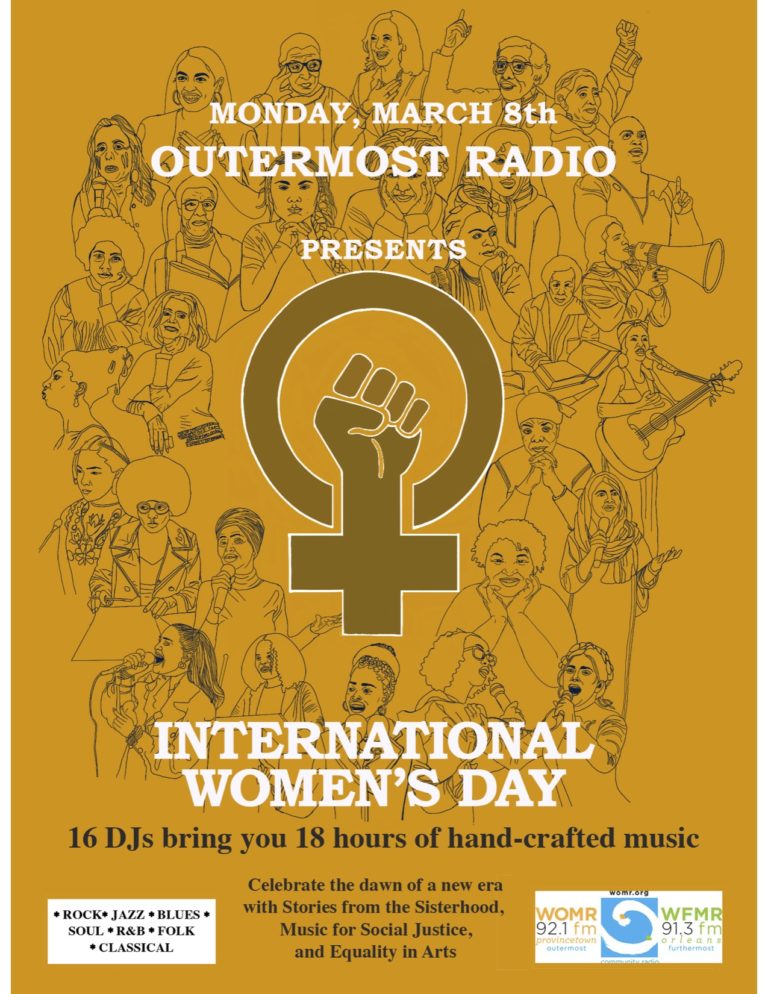 Provincetown, February 19, 2021:  WOMR is "aflame and unafraid" to honor International Women's Day (IWD) 2021 on March 8th at the beginning of this new chapter in American History. 
We are celebrating light in a new era for women's voices in art, leadership positions, and beyond. The full day of programming spotlights women composers, lyricists and musicians.
16 DJs highlight the victories and heritage of women with Stories from the Sisterhood, Equity in the Arts, Music for Social Justice, and Pandemic Stories.  
Outermost Community Radio's DJs curate an all-day sonic exhibit, showcasing the very best music of our time including soul, R&B, jazz, indie rock, Broadway musicals, classical composers:
Women of Color, opera, folk, world music, gospel and blues. As National Youth Poet Laureate Amanda Gorman so eloquently stated,
"When day comes/We step out of the shade/Aflame and unafraid/The new dawn blooms as we free it/For there is always light/If only we're brave enough to see it/If only we're brave enough to be it." 
IWD began in 1911.
Today it is a global holiday rejoicing in the cultural, social, economic, and political achievements of women. 
IWD 2021 is raising awareness and visibility of women's accomplishments and challenges.  IWD 2021 aims to inspire action, provide resources, and highlight collaborations which support the equality of all women in all aspects of life.
IWD underscores this year's global theme #ChooseToChallenge.
From dawn to midnight, the Women DJs of Provincetown's radio station WOMR 92.1 & WFMR 91.3 FM will tend the flame of a new era for women, focused on honoring the diversity of this great planet we all call home.
To find the schedule or listen online go to www.womr.org
To join the worldwide celebration, visit the website www.internationalwomensday.com
Follow WOMR's activities on Facebook at facebook.com/IWDWOMR
Follow WOMR on Instagram at rwomrwfm
About WOMR/WFMR: WOMR is a noncommercial, nonprofit educational community radio station offering an eclectic blend of music and spoken-word programming since March 21st, 1982 and broadcasting from Provincetown, Massachusetts—making it "outermost radio."
WOMR is not affiliated with any educational institution and derives its financial support from listeners, businesses and funding organizations.
More information at
CONTACT: 
Dinah Mellin (508) 255-3864 chezdi@yahoo.com
Pandora Peoples (310) 591-6996  peachypandora@yahoo.com
Denya LeVine (774) 383-3961 denya1@verizon.netbusinesses, and funding organizations. 
More information at womr.org