Pomham Rocks Lighthouse: Guiding More than Ships
Pomham Rocks Lighthouse sits high on an island across the bay from Rhode Island Hospital. But that's not the only connection they have.
As The Lighthouse celebrates its 150th anniversary this year, a bit of its history has come to light. A 1959 graduate of Rhode Island Hospital School of Nursing, Joan O'Sullivan, of Warwick, shared information from hospital and nursing school publications explaining the lighthouse-hospital link.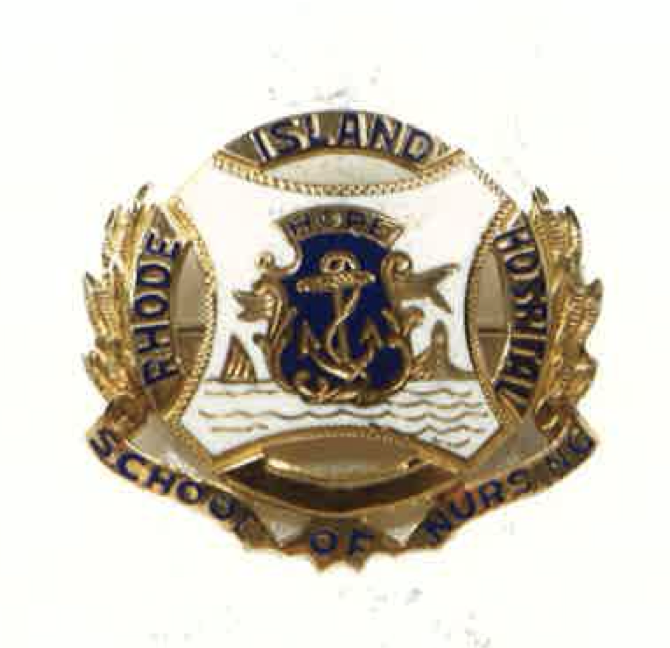 It started in 1892 when Charlotte Peters, wife of the Rhode Island Hospital Superintendent, Dr. John M. Peters, designed a pin, which was later presented to each graduate of the Hospital's nursing school until they closed in 1973.
Mrs. Peters was an invalid who spent much time on a couch in their apartment above the entrance to the hospital, facing Pomham Rocks. From her window, she watched the ships as they sailed on Narragansett Bay.
An article published in the July 1974 Rhode Island Hospital newsletter, entitled Another Era Ends: Pomham Lighthouse is Automated, the editor sadly relates that the "lighthouse mounted on a rocky projection in the middle of the Providence River, was decommissioned this past June 1, in traditional Coast Guard ceremonies…Since 1892, the lighthouse has appeared on the nurses' school pins and has symbolized a guiding light for the sick in their search for the care provided by this Hospital."
In December 1892, Mrs. Peters had a pin made from a $20 gold piece and presented it on Christmas Day to her private duty nurse, Eugenia D. Ayers, a graduate of the class of 1888.
In the center of the pin is the State seal in blue with a gold anchor. To the left, atop white waves is a sailboat. To the right, Pomham Rocks Lighthouse, described in the nursing school's publication, The Story of the Nursing Badge, as "a beacon to guide in darkness, a tower of strength by day, directs the ailing traveler to the sturdy ship from which he can regain his own strength."
The first pin, now in the nurses' alumnae's historical collection, bears the number one on the back.
Each pin that followed is numbered sequentially. The photograph featured here shows pin No. 3,053, and belongs to Joan O'Sullivan.