Another Cause for Celebration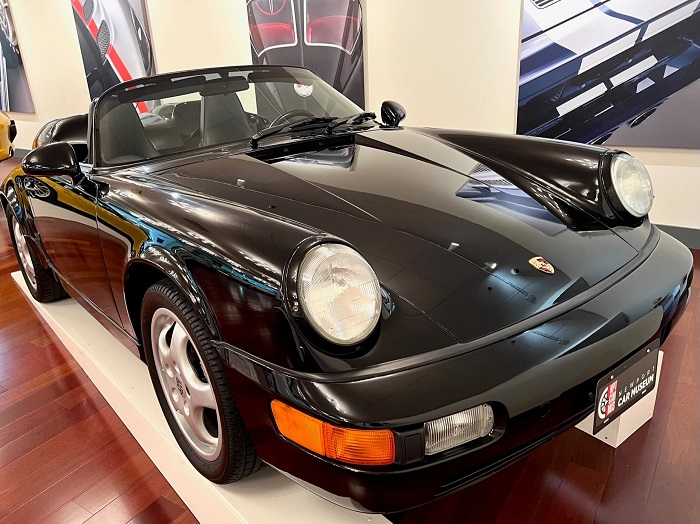 All Production Versions of Porsche Speedster on Display
PORTSMOUTH, R.I. (September 22, 2022) – In June, the Newport Car Museum celebrated its fifth anniversary by adding five new cars to its collection, which is now 90+ strong and represents eight decades of automotive design.
In September, it added yet another car: a 1994 Porsche 911 (964) Speedster, which is significant in that it means the Museum now has on display a Porsche representing every production Speedster version built since 1954.
With a 1994 Porsche 911 (964) Speedster added to its collection, the Newport Car Museum now has on display all five production versions of the Porsche Speedster built since 1954. 
"I'm fairly certain there are very few, if any, museums where the public can see all five production versions of the Porsche Speedster, which were built from 1954 to 2019," said Newport Car Museum Founder Gunther Buerman, who personally selects frequent additions to his private collection just as he hand-picked the original 65 cars that launched the opening of the Museum in 2017.
The 911 Speedster, a minimalistic open-top two-seater, with a distinctive short, raked windshield, is a rare classic that combines timeless design with state-of-the-art technology.
The model 964 was the third version of this famous car and featured significant styling revisions over the previous 911 models.
It's estimated that only 936 of the 964 Speedsters were built for the 1993 model year, with some of the later examples, like the one newly added to the Newport Car Museum collection being completed as 1994 cars. Only 427 of the 964s were allocated for the U.S. market.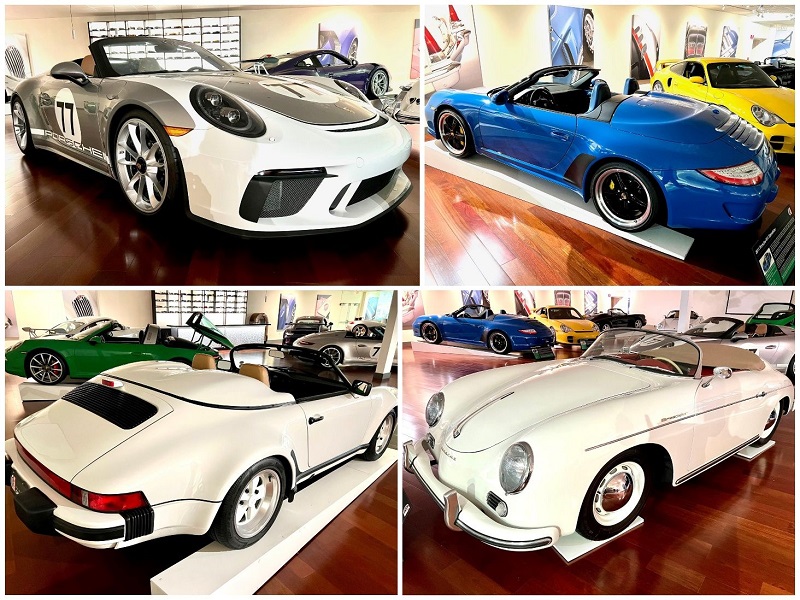 In addition to the newly acquired 1994 Speedster, the Newport Car Museum's Porsche collection includes (clockwise from top left) a 2019 Speedster Heritage, 2011 Speedster, 1956 356 a Speedster and 1989 Carrera Speedster. 
The Museum's '94 Speedster joins Porsche Speedsters on display from 1956, '89, 2011 and 2019. They are part of a more comprehensive showing of 14 Porsches in a Pop-Up Porsche Exhibit. But don't let the "Pop-Up" part confuse you; the exhibit has earned semi-permanent status due to its popularity, so it's not going to disappear anytime soon.
It is set up in the Museum's 5,000 square foot Event Space as a seventh gallery, complementing the six other galleries that represent World Cars, Corvettes, Ford/Shelby, Fin Cars, American Muscle and Mopars.
The Porsches, like all vehicles in the collection, are perched on low platforms or turntables, with no barrier ropes so that visitors can get up close and personal with these magnificent, iconic machines.
Large-format artwork and award-winning historical videos commissioned specially for the Museum add to the experience, as does an impressive collection of Mid-Century Modern furniture that enables visitors to relax and reflect on the cars as art.
The Porsche Speedsters on display at the Newport Car Museum:
1956 Porsche (356a) Speedster
1989 Porsche 911 Carrera Speedster
1994 Porsche 911 (964) Speedster
2011 Porsche 911 (997) Speedster   
2019 Porsche 911 (991) Speedster
More About the Newport Car Museum
The Newport Car Museum, with over 90 cars displayed in Six Galleries and a Pop-Up Porsche Exhibit, tells the story of Ford/Shelby, Corvettes, World Cars, Fin Cars, Mopars and American Muscle Cars.
Within 18 months of its 2017 opening, it was included in USA Today's "Top 10 Best New Attractions" and named Yankee Magazine's "Best Specialty Museum."
It also has won an award from the National Association of Automobile Museums for its originally produced historic videos and in 2021 won the Tripadvisor® Travelers' Choice award for a second consecutive year and further designation as Tripadvisor's top 10% of attractions worldwide.
The Newport Car Museum is handicap accessible and hours are daily 10 a.m. to 5 p.m. Tickets can be bought at the door or online at 
(401-848-2277). Regular admission: $19/adults; $15/Seniors, Military, Students; $9/Ages 5-12 (with an adult); Free/Ages 4 and under (with an adult)
Follow us on Facebook, Twitter, Instagram, YouTube and IGTV.